review
Chicks on Speed: Cultural Workship Now!
Kunstraum Kreuzberg/Bethanien
October 1, 2011
I headed to the Chicks on Speed retrospective at the Kunstraum Kreuzberg/Bethanien with the suspicion that the show would feature former concert posters and other half-hearted tokens of original performances; all gestures that seem particularly depressing. I wasn't completely wrong, as most of the installations do recall residue of Chicks' events past, but their pastiche of zines and printouts, dildos, skulls, idle notes and wax limbs are appropriate for artists who lightheartedly sidestep oeuvres; their only consistent medium is the use of their bodies. 
It would be futile to try and count the number of celebratory boob-related images scattered across Chicks on Speed – Cultural Workship Now!  There are multi-colored Yves Klein take-offs, printouts of looming "Boob Monsters," countless film roles and a "Boob-Tent" with plushy fallopian extensions (a big hit with the kids). But rather than servicing the usual sensory experience of a hidden and sometimes shameful desire, Chicks on Speed's nudity is one of camaraderie and freedom, something detached from the usual boobs = male arousal equation.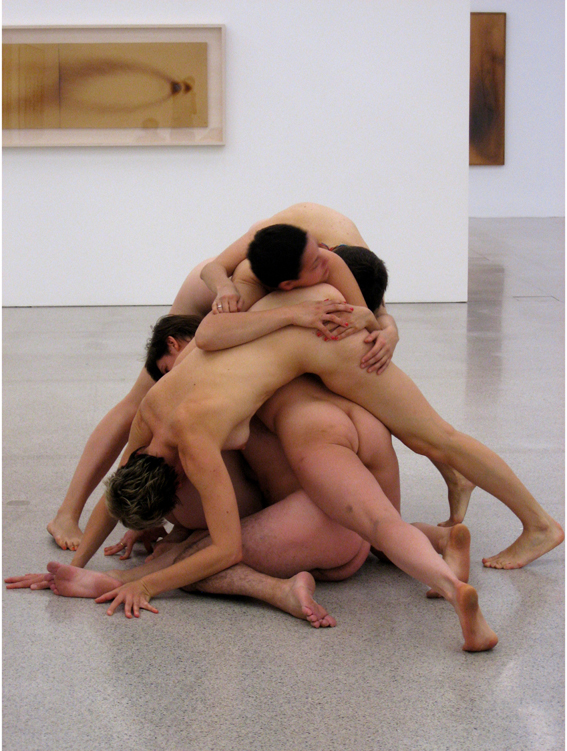 Chicks on Speed, Yves Klein (Pile), 2007; courtesy Chicks on Speed.
A good example is the video Yves Klein, where naked members of Chicks on Speed pile on top of each other in front of Klein's large blue canvases. They carouse and stroll along the antiseptic museum space, at one point dragging a naked man behind them like a piece of plushy decorative furniture. With Yves Klein, Chicks On Speed celebrate and demystify the female form while playfully disrupting the sanctity of the white cube.
In another video, Visitors, three of the Chicks warble and bounce through the New York subway system, their manic and epileptic efforts devolving from funny to disturbed. These movements, set against an ambient moody soundtrack, create a psychic disconnect and a sense of discomfort for both the subway-goers and the video's viewers.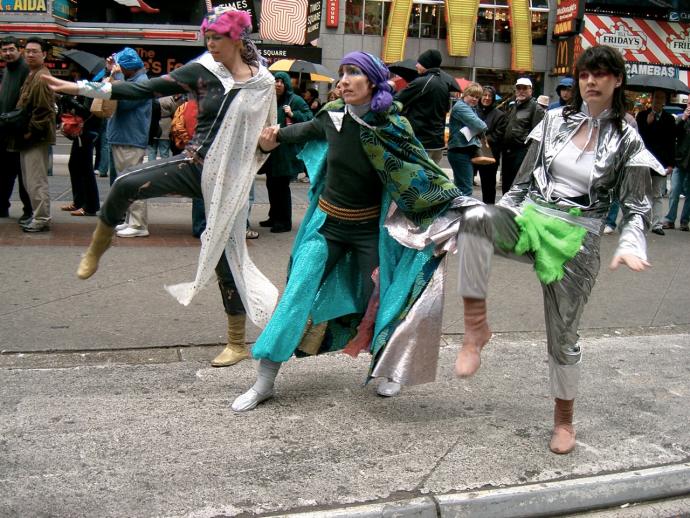 Chicks on Speed, Visitors; video still; courtesy Chicks on Speed.
In other video works, the Chicks sing and slap and climb, dress as geishas, worship a giant eye entitled the Theremin Tapestry, and riff on improvised instruments as well as each other's bodies. There seems to be a real interest among Chicks on Speed's members to undermine musical expectation through a rethinking of the body-instrument relationship. In many of the videos, the Chicks try to find a tool more physically connected than guitar or microphone, at times misaligning sounds and rhythms with high-heels-cum-guitars to create a sonic mishmash that oscillates between funny and alarming. Some passages purposefully test the patience of the viewer, an annoyance that occasionally subtracts from their overall celebratory spirit.
In their largest installation, Chicks on Speed introduce Voodoo Chanel, a brand that is—to quote their manifesto—"180% emancipation." The work here is dense, with large charcoal drawings hanging on the walls, a lot of fake bones and a series of altars exuding a plasticine black magic. In one small enclave Chicks on Speed installed a makeshift fountain paradise under the guardianship of a toy iguana and a Xeroxed elephant man. In another they display a black closet full of waxy hanging phalluses. With Voodoo Chanel, Chicks on Speed address the commodification of the exotic in a way that is more heavy-handed than elsewhere in Cultural Workship Now!  Their manifesto states that Voodoo Chanel "smells of anarchy," which might be true, but the rest of the exhibition, with its breadth of references, slapstick lightness of touch and sense of musical play, possesses a scent that is more nuanced.