review
Stan VanDerBeek: The Culture Intercom
Contemporary Arts Museum Houston
June 30, 2011
If writing about music is like dancing about architecture, writing about Stan VanDerBeek's work is like dancing about the Internet. The popular adage refers to the impossibility of translating one medium to another, and it's apt since VanDerBeek's practice—which embraced and reconfigured emerging technologies in ways that often radically implicated the human body—is especially difficult to analyze through writing alone. Decades before the mass public use of the Internet, he proposed plans for a networked international picture-language called the "culture: intercom," designed to inspire an "emotional-sociological comprehension" of technology through feedback mechanisms. It's a fitting title for the artist's first museum retrospective.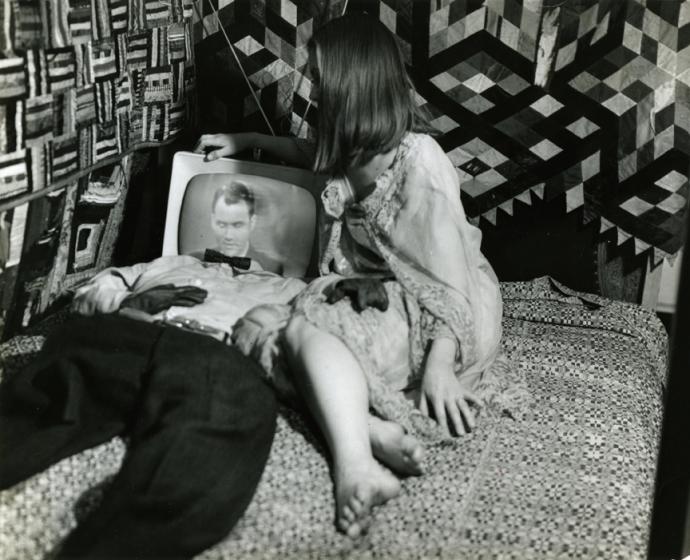 Stan VanDerBeek, Breathdeath (film still), 1963; courtesy the Estate of Stan VanDerBeek. 
VanDerBeek's expanded cinema—a neologism he coined along with "the culture: intercom" in a 1965 manifesto—receives a comprehensive art-historical treatment in the exhibition co-organized by the CAMH and MIT's List Visual Arts Center. Co-curator Bill Arning's catalogue essay defines the exhibition as a "reclamation project" that hopes to resituate VanDerBeek as an artist who worked across and between media instead of simply as a new-media pioneer and experimental filmmaker. As such, the show includes early works from VanDerBeek's studies at Black Mountain College from 1949-1951, as well as works he made just before his death in 1984. The exhibition thus underscores VanDerBeek's early and prescient use of new technologies and suggests a linear reading, despite the CAMH's nonchronological exhibition layout. But what is most remarkable about seeing the works in person is their compelling insistence on the presence of bodies in space and not their technological virtuosity. In this sense, VanDerBeek even outpaced much contemporary new media art.
The show's earliest work and point of departure is a series of black-and-white photographs of dancers taken at Black Mountain College from 1949-1950 that exemplifies VanDerBeek's interest in the corporeal.1 It seems a natural jump from multimedia collaborations with artists such as John Cage, Merce Cunningham and Bell Labs engineer Billy Klüver to VanDerBeek's immersive media environments like Movie Drome (1963-65) and Movie Mural (1968/2011).2 Movie Mural appears restaged in all its cacophonous glory. The collage-like installation comprises overlapping images from an overhead projector, multiple slide projectors and several digital (originally film) projectors aimed on curved panels set forward from the gallery's white walls. The projected material includes clips from a short movie on film history, snippets of news reportage on late 1960s riots, images of modern and ancient art and VanDerBeek's own films. The warm humanlike whirrs of obsolete machines and a rock and soul soundtrack accompany the installation.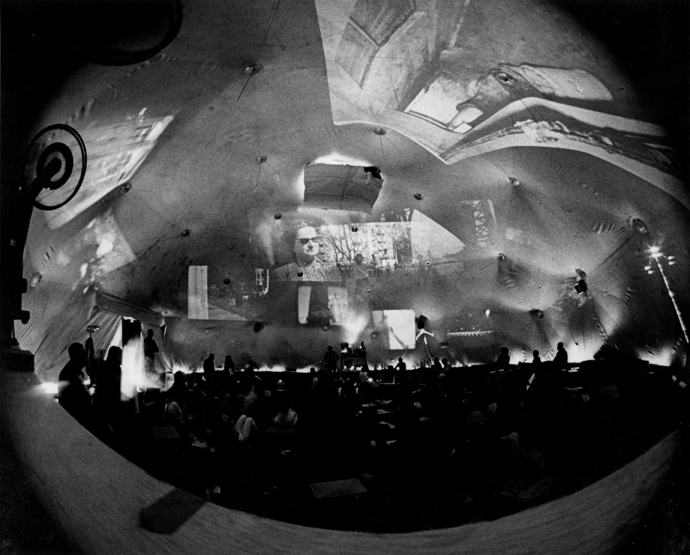 Stan VanDerBeek, Movie-Drome, interior, Stony Point, New York, ca. 1963-65; courtesy the Estate of Stan VanDerBeek.
VanDerBeek sought to push boundaries. In the '60s and '70s he became what catalogue essayist Michael Zryd describes as a "multi-platform artist," whose varied practice led him to work with art organizations, scientists, mainstream media and corporate interests in ways almost unthinkable in today's cultural climate. For instance, in the mid-1960s at MIT's Center for Advanced Studies, VanDerBeek collaborated with computer programmer Ken Knowlton on a series of punchcard animations called Poemfields. The works appear and dissolve in optically hypnotic sequences, aesthetically residing somewhere between primitive video game coding, cross-stitch patterns and Jenny Holzer's LEDs. Some of the wry language even has a proto-punk twist: "Crying is an edge / but a cutting edge / really / silence," states Poemfield No. 3 (1967).
Extending his practice beyond academia, VanDerBeek created the political opus Violence Sonata as a product of the WGBH-TV Artists in Television program. The non-narrative programs, simulcast on two different channels (shown in the exhibition on side-by-side monitors), sought to address binaries of the day in three sequences of violence types: man (vs. nature and machines), man vs. man, and man vs. woman, in varying racial and class scenarios. At the program's conclusion, viewers were invited to cast their vote on a yes-no question via telephone. Like his peer Marshall McLuhan, a groundbreaking theorist in cybernetics and media environments, VanDerBeek believed in the power of feedback to transform human consciousness. Today, televised voter call-in segments often pit the "populist" vote again the opinions of the expert class (think American Idol) and reinforce consumerist snap judgments. VanDer Beek's hopes for telecommunicative public feedback loops, however, are engaged in a post-1968 political project to give agency to the people. He equally urged his audiences toward physical interactions with technology.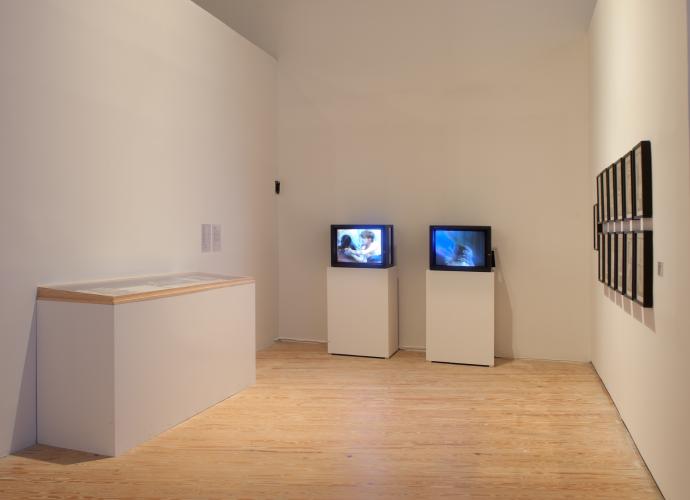 Stan VanDerBeek, Violence Sonata, 1970; Two-channel video transferred from 3/4 inches air print; color, sound, 49 min. Installation view at the Contemporary Arts Museum Houston, 2011; courtesy of WGBH, Boston. Photo: Rick Gardner.
The Culture Intercom celebrates VanDerBeek's legacy of a thoughtful and embodied new media art. Though working in a downtrodden economy where corporate interests wrapped themselves around technological research—obstacles not unfamiliar today—he navigated the conditions of production with remarkable acuity while maintaining deeply political concerns. If today's new media practices often struggle to breach the mind-body divide, VanDerBeek's practice reminds us that we may engage with technology more playfully and viscerally.
1. His earlier painting background from Cooper Union is given its due credit with a modest installation of untitled paintings from 1955-57 on small wood panels in an art brut-meets-Gottlieb style.
2. The exhibition only displays photographs of Movie Drome, a dome-like installation built out with 360-degree projection capabilities at VanDerBeek's home in "The Land" compound in Stony Point, NY.