review
John Singer Sargent: Watercolors
July 7, 2013
Major museums in this country appear to agree that John Singer Sargent ranks at the top of the American art canon. Consider, for a moment, the fact that Sargent paintings never, ever go into storage. They are simply too busy demanding pride of place in every American museum fortunate enough to own a good one. The big, important canvases are cultural and aesthetic landmarks in the history of our east coast, requiring little if any convincing by way of wall text to intrigue hundreds of thousands of fans.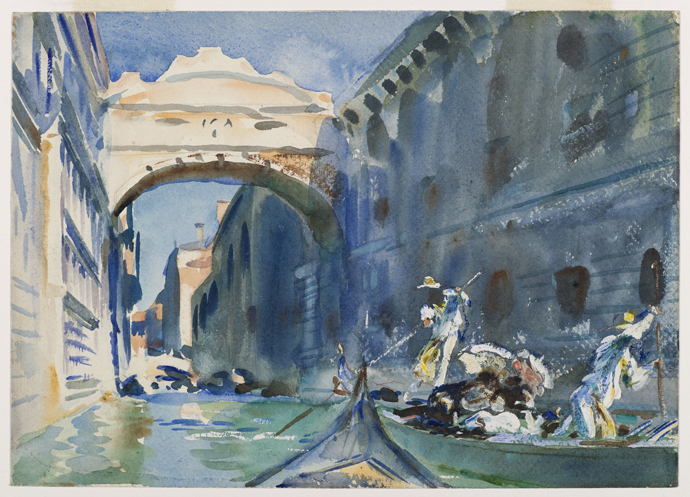 John Singer Sargent, The Bridge of Sighs, circa 1903–4; translucent and opaque watercolor with graphite and red-pigmented underdrawing; 9 15/16 x 14 in; courtesty of the Brooklyn Museum.
A year or two ago, the Metropolitan Museum of Art's American Wing underwent exhaustive renovation. This was fun because instead of sending works to an underground storage facility, many went into "transparent storage" corridors nearby the galleries under construction. One could wander through tightly-organized floor-to-ceiling glass cases with dim lighting, filled with some of the wing's most hard-to-live-without. This is where they put Sargent's iconic 1884 masterpiece, Madame X. This strange installation placed Sargent's painting closer to viewers than it had been, protected from lunatics by nothing more than a glass vitrine. Unframed for reasons of restoration, the canvas's edges showed its age, and Sargent's provocative subject appeared vulnerable, not quite as vain as we are accustomed to seeing her. Hung low so that X's profile was close to eye-level, the picture's well-known powers of flirtation were undeniable.
The Brooklyn Museum and the Boston Museum of Fine Arts have joined forces to present an exhibition of Sargent's less celebrated art, his watercolors. According to the introductory wall text, Sargent considered these works some of his most private, unwilling at first to let them contend with his reputation for larger and more formidable oils on canvas. This helps explain his initial reluctance to show them. He was eventually convinced to exhibit the watercolors, though he stipulated that they be sold as lots in their entirety to east coast museums. The majority of the works included here, almost a hundred total, are from two groups of watercolors Sargent exhibited at Knoedler & Co. in New York. Hence, the Brooklyn Museum and Boston's MFA acquired each group en masse in 1909 and 1912, respectively.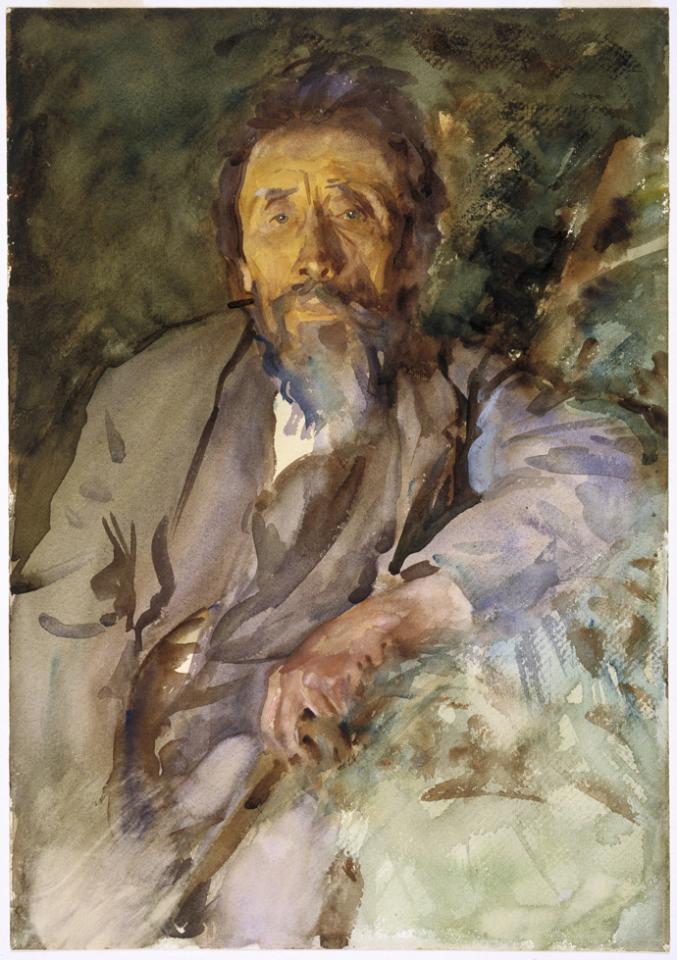 John Singer Sargent, A Tramp, circa 1904–6; translucent watercolor and touches of opaque watercolor; 20 x 14 in; courtesy of the Brooklyn Museum.
The watercolors are fascinating, providing tender views into the work and life of a genius that Modernism never cared for. The first room features Gothic palaces, churches, canals, gondolas, bridges and ports of Venice. Some are dashed off to appear wet. Others are more precise and deliberate. Across the room from the Venetian scenes, villa garden pictures focus on outdoor statuary enveloped by sensuous Italian flora. Mythological figures like Daphne or Triptolemus pose in elegant deterioration above fountains as the surrounding natural environment nearly overtakes them in abundance. Regardless of paint handling or architectural subject matter, informal pictorial arrangements occur throughout. Eccentric compositions appear delightfully at odds with the grandness of Italian architecture that inspired him. Sargent, the prototypical American abroad for the contemporary era, imbued every single picture here with a careful yet casual joie de vivre. Through no fault of his own, the style would persist and devolve into the banal, generic souvenirs sought by every successive generation of tourist in Europe.
Subsequent rooms are filled with portraits of friends or acquaintances met around the world, figures lounging in sunlit locales, exuding the élan we expect from Sargent's oil portraits, affected through an unbothered lightness of touch, at times no more than a single layer of watercolor on paper. And there are boats, lots of boats. Figures at rest interested Sargent while using watercolors, it seems because they were easy to use while traveling to retreats around Europe and the Middle East. Boats, just as naturally, appealed to the watercolorist for the challenge of using pigments suspended in water to capture vessels floating in water.
A rather sexy 1903 portrait of a Spanish soldier wearing red trousers and a pencil-thin mustache looks directly at his beholder with arms crossed and reminds me of one or two of Jack Pierson's erotic, color-saturated male nudes taken in Provincetown or some such resort town. Pierson's work doles out similar fantasies of never-ending retreat coupled with the beautiful madness of longing. If there is any credibility to the notion of Sargent employing a gay gaze (more on that later), then Pierson's sensibility embraces an affinity for these with all of the romantic melancholy that could entail.
Another example, Sargent's Man Seated by a Stream, Val D'Aosta, Purtud (1907), is one of the strangest and most vital painted figures I've ever seen. The sunburned skin of the man's face and neck manages believably to appear lavender even though we know it ought to be red. Seated atop an impressionistic swirl of rock, grass, sand and stream, his pearl-colored calf and foot pokes awkwardly out of a dramatic billowing robe.
Like Man Seated by a Stream, most pictures in the exhibition feature non-academic cropping, blurred motion or activity and other snapshot-like qualities. In this way Sargent's watercolors prefigure "amateur photography," which became a serious endeavor undertaken by the likes of Pierson, Nan Goldin, Ryan McGinley, etc. This is interesting to ponder in terms of possible precedence to contemporary practices by nearly a century. One can't help but assume that Paul P. is freaking out and telling all of his friends to go see the show. The same goes for TM Davy, Maureen Gallace, Tim Gardner, Elizabeth Peyton and others, I'm sure.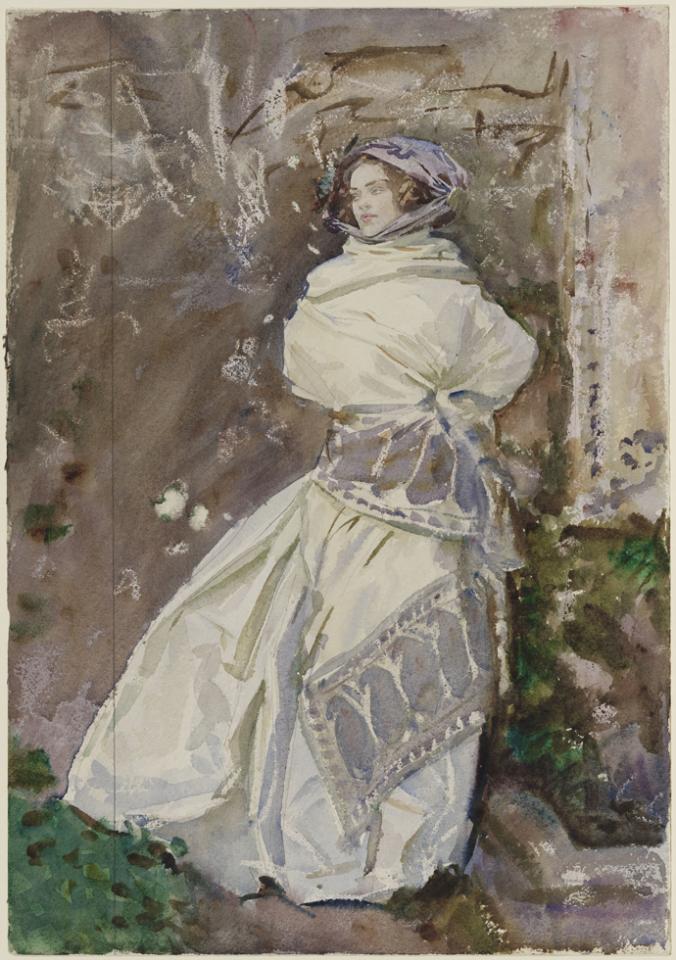 John Singer Sargent, The Cashmere Shawl, circa 1911; translucent watercolor and touches of opaque watercolor and wax resist with graphite underdrawing; 19 15/16 x 14 in; Museum of Fine Arts, Boston, The Hayden Collection—Charles Henry Hayden Fund. Photograph © 2013 Museum of Fine Arts, Boston.
It is difficult and ultimately not worthwhile to try and persuade hardcore modernists that Sargent's greatness is little more than a popular myth undone by Jackson Pollock's Cold War heroics or overcome by Andy Warhol's cool irony. Sargent's admirers are too often dismissed as sentimental, as if they suffer from a lack of socio-political consciousness in relation to Marxist theories of the avant-garde that arose and dominated art discourse soon after Sargent's death in 1925.
"Radical" types who don't like Sargent can be tiresome. Some have attempted to make queer arguments for his many reposing male nudes, as if an art historical discovery of a gay male gaze might rescue at least this portion of his oeuvre to postmodernists obsessed with championing the Other. Even as a gay man who enjoys this kind of speculation, I've mostly been struck with how unnecessary these apologetics are when measured against Sargent's inability to make a boring picture. His pristine sensitivity to the interplay of light, shadow and color, the surprising variety of pictorial compositions employed, the deftness of hand that makes his gestural precision a joy to behold, his stamina, the ways these characteristics overlay onto subtle yet genuine psychological insight into the lives of his noteworthy sitters, combining all at once and over time to define his genius for society portraiture.
Sargent's well-known society portraits achieved timeless publicity. They are idealized visions of every sitter he worked with; Sargent's customers paid handsomely to be rendered with unassailable Style. He afforded each one the nobility of a private life, their notoriety protected by the extravagance of privilege. In spite of Sargent's reluctance to let the watercolors leave his custody and operating within the familiar paradox of culturally sanctioned voyeurism, the watercolors descant a public paean to privacy, one of our contemporary society's most valuable, exhaustible and consistently threatened rights. In fact, the Brooklyn show's only major problem is the inclusion of educational video displays interspersed throughout on small wall-mounted flat-screens, showing anonymous watercolor artists at work recreating Sargent paintings as if to demystify the artist's technique. They play at the risk of disenchanting. Besides being very annoying to watch and overly didactic, they cannot help but commit an intrusion, like video surveillance used to spy retroactively on an artist who lived before the technology existed. Standing in front of these so-called minor works is all that we need to peek into the artist's private obsessions, tiny, generous thrills we do well to take seriously.
John Singer Sargent: Watercolors is on view at: 
Brooklyn Museum: April 5 - July 28, 2013
Museum of Fine Arts, Boston: October 13, 2013 - January 20, 2014
Museum of Fine Arts, Houston: March 2 - May 26, 2014