review
The Library of Unborrowed Books and Ed Ruscha Books & Co. 
Art in General; Gagosian Gallery
May 2, 2013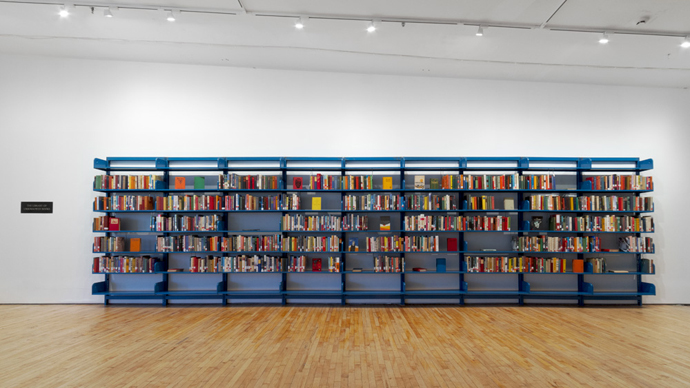 Meriç Algün Ringborg, The Library of Unborrowed Books, New York, 2013; installation view at Art in General; image courtesy the artist and Art in General; photographed by Steven Probert.
The spring gallery season in New York City began with a shower of exhibitions with and about books. Two shows in particular, Meriç Algün Ringborg's The Library of Unborrowed Books at Art in General and Gagosian's Madison Avenue show Ed Ruscha Books & Co., attest to the paradoxical legacies of books and their liminal position to the art world, particularly in the digital age. They also poignantly investigate loss and legacy in the archive, but, perhaps most notably, these works underscore our premature nostalgia for books, libraries, and archives.
Ringborg's somber library sits upon blue metal library shelves acquired from a university library. Ringborg liberated the books from their solitude in The Center for Fiction, a members-only library founded in 1820 as the Mercantile Library in Midtown. In an interview with Art in America, Ringborg explained, "The public library is for me a bit like a museum, in that its mission is to collect and preserve … I'm particularly interested in what falls through the gaps in these systems of archiving." 1 The library, an institution based in circulation and action becomes, in Ringborg's installation, a facility in which books decay. These lost unread stories offer themselves up to us in a romantic melancholic gesture.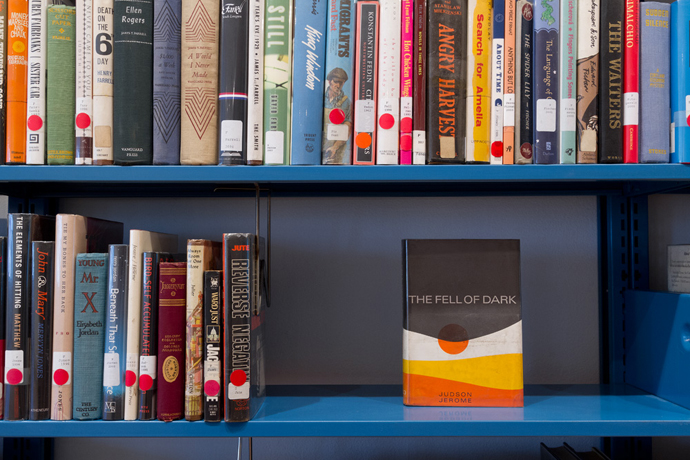 Meriç Algün Ringborg, The Library of Unborrowed Books, New York, 2013; detail of installation; Image courtesy the artist and Art in General; photographed by Steven Probert.
Surprisingly, books by Joyce Carol Oates, Charles Dickens and Franz Kafka sit alongside those by lesser known authors. Sadly, some authors have more than one book among the forgotten and unwanted, such as John Appleby and Aldous Huxley. Many of these books, some old and some new, failed to even officially enter the library's circulating collection given the absence of call numbers on their spines. Regardless, Ringborg still finds humor in this otherwise literary tragedy. On the first stack of shelves, a cheerful orange hardback stands alone—discarded from the discarded—ironically entitled This Sorry Scheme by Bruce Marshall, a fitting metaphor for this collection.
Ed Ruscha's cheap, limited edition artist books are anything but forgotten (having inspired artists since his first publication Twentysix Gasoline Stations in 1963). Organized in conjunction with the recent MIT publication Various Small Books Referencing Small Books by Ruscha, Gagosian's show Ed Ruscha Books & Co. is less about Ruscha than it is about contemporary artists' engagements with the form and content of his books.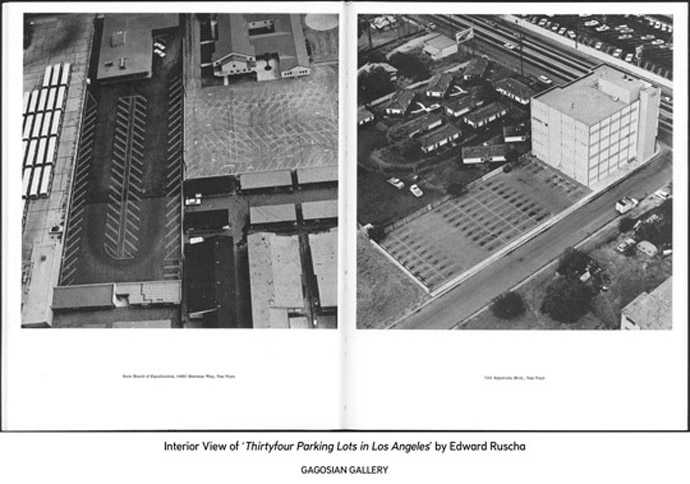 Ed Ruscha, "TWENTYSIX GASOLINE STATIONS," 1962; © Ed Ruscha; image courtesy Gagosian Gallery.
Around the perimeter of the gallery, books hang evenly from cables, colorfully dotting the white walls in an even rhythm. They wait like inert pendulums, to be activated by the viewer-reader. Rather than quarantined in vitrines—though some are—the books on the walls offer their smells and textures to the viewer. The glossy, flimsy and colorful pages of Harlan Erskine's Ten Convenient Stores (2005), for example, mimic those of magazines found within his convenient stores. Erskine's book, clearly riffing on Ruscha's Twentysix Gasoline Stations, documents the stores' exteriors, highlighting their neon signs, florescent interior lights and colorful advertisements plastered on the windows. The book's thin glossy pages, however, tactilely move us through the stores' front doors into the shelves of cheap commercial goods we know are there but cannot see.
Humor permeates the exhibition, operating as both critique and homage, especially in Bruce Nauman's Burning Small Fires (1968). Notably, this is one of the only early critical engagements represented in the show. In the work, Nauman recorded the burning of each page in Ruscha's Various Small Fires and Milk (1964) in a series of photographs. The book folds out into a rectangular poster, revealing the fifteen snapshots of his act. Though Burning Small Fires initially seems out of place or overshadowed in its historicity, its presence illuminates the provocativeness of Ruscha's books in the very decade in which he established a new paradigm in artistic creation and distribution.
Drawing upon Ruscha's brief yet descriptive titles, his innovative formats and his banal subject matter, these contemporary artists not only pay homage to Ruscha's originality but continue to push the boundaries of the artist book. Elisabeth Tonnard's One Swimming Pool (2013) is one such striking example of Ruscha-quoting and conceptualism. For this recent book, she photographed one of Ruscha's photos from Nine Swimming Pools and a Broken Glass (1968) and published them on 3164 pages in a book the same size as Ruscha's. The book can then be dismantled and arranged in a life-size installation. Other artists document everything from cookies, peanuts, pornography companies and payphones dotting Sunset Boulevard published in accordion folds, posters or stapled or bound editions. Even John Waters participates in the Ruscha tradition with 12 Assholes and a Dirty Foot (1996).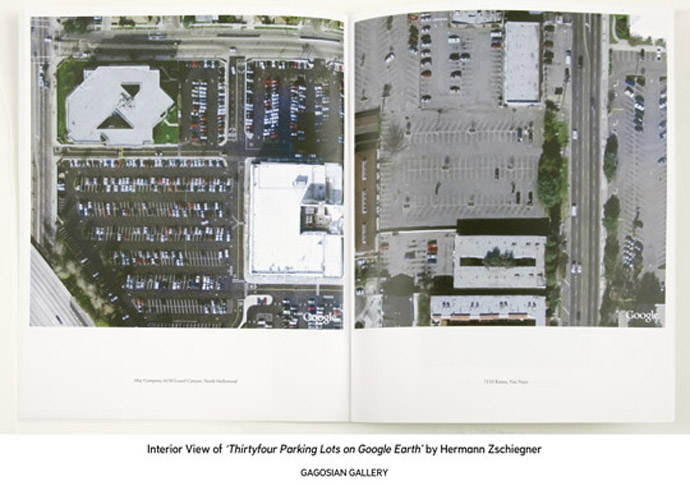 Herman Zschiegner "Thirtyfour Parking Lots on Google Earth," 2006; © Hermann Zschiegner; image courtesy Gagosian Gallery; photographed by Robert McKeever.
The question is, "Why now?" Why are books so central to art practices today? At Gagosian, thirteen books in one vitrine allude to Twentysix Gasoline Stations, most published since 2009. Just last year, the ABC Artists' Books Cooperative self-published thirty-three books by twenty-four artists in a collection entitled ABCED that cite the format and content of Ruscha's books. Common explanations frequently include the backlash against the rise of e-books; the closing of bookstores nationwide; the affordability and ease of publishing and self-publishing; and the form's challenge to the fine art paradigm and gallery system. What seems to be at the forefront of this trend, however, is an untimely nostalgia for a form not yet vanished. Ringborg's neglected books escort us into dim basements and their mazes of dusty books brimming with untold tales. The contemporary artists at Gagosian desperately grasp at a 1960s Southern California with myths of eternal sunshine, the open road and a deadpan outlook on culture and the art world.  Books, cherished or abandoned, are intimately entwined in tactile and intellectual memory fields that artists and viewers alike may find difficult to escape. Perhaps we are perfectly content succumbing to the lure of nostalgia.