review
Shana Moulton: The Blazing Fireplace of Guardianship
September 20, 2012
Shana Moulton's identity as a video and performance artist makes her contribution to Content, an independent artist's book series, that much more intriguing. What story can/might Moulton produce in book form, and how might it converse with her faux-naive videos (which frequently feature Moulton herself trying to navigate the pseudo-scientific and pseudo-spiritual world of women's beauty products)? As it turns out, Moulton's book project relies less on narrative and more on the subdued material qualities of appropriated cheap paper ephemera. The low-fi fantasies of Moulton's videos take shape here as disturbing newsprint collages; the book's insides resemble a mail-order zine shipped from a Wiccan separatist priestess whose mind is slowly frying like an egg in the high desert.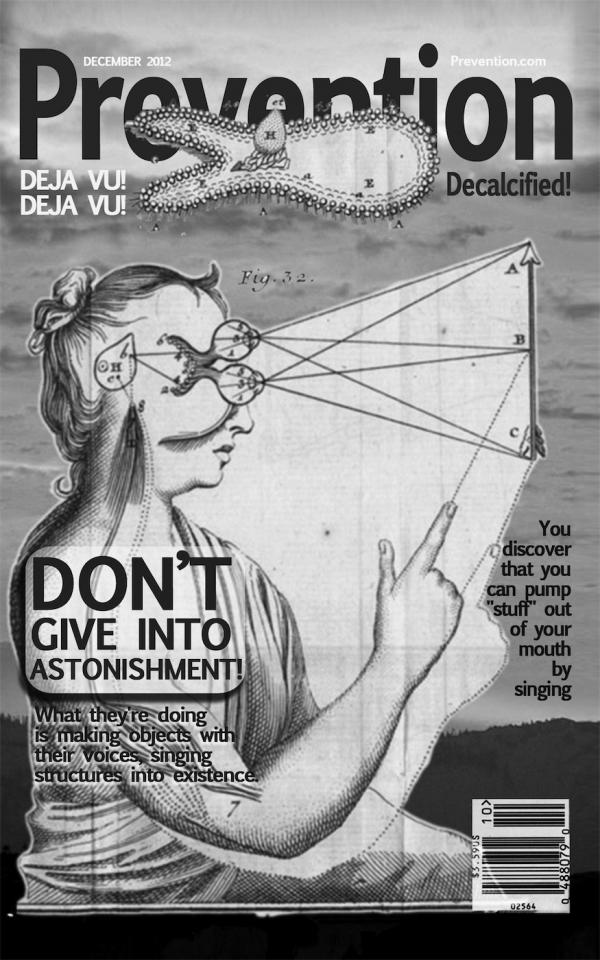 Shana Moulton, The Blazing Fireplace of Guardianship, 2012; Content, Winter 2012, cover; image courtesy of Content.
All the illustrations in Moulton's book are printed in a yellowish grayscale that evokes the cheaply printed communicative models of times past: extremist newsletters, back-of-the-newspaper advertisements and The Whole Earth Catalog. There's a sharp contrast between the off-white cast of the inner pages—which make the reader expect the creepy texture and inky scent of newsprint—and the smooth, archival white cover of the book itself. The Content series is a dressing-down of the promises inherent in "the artist's book": new, inventive design templates; cleanliness and purity to separate it from the outside world of bound and printed materials; and above all, beauty. Moulton's issue of Content (entitled The Blazing Fireplace of Guardianship) substitutes beauty with advertisements for products that are supposed to generate beauty, such as the ugliness-correcting Universal Head Halter or a page of floating collaged bodies that says only "Advanced carpal tunnel." Note the ambivalence of this phrase. The reader can't tell whether "advanced carpal tunnel" is an affliction or perhaps an otherworldly location.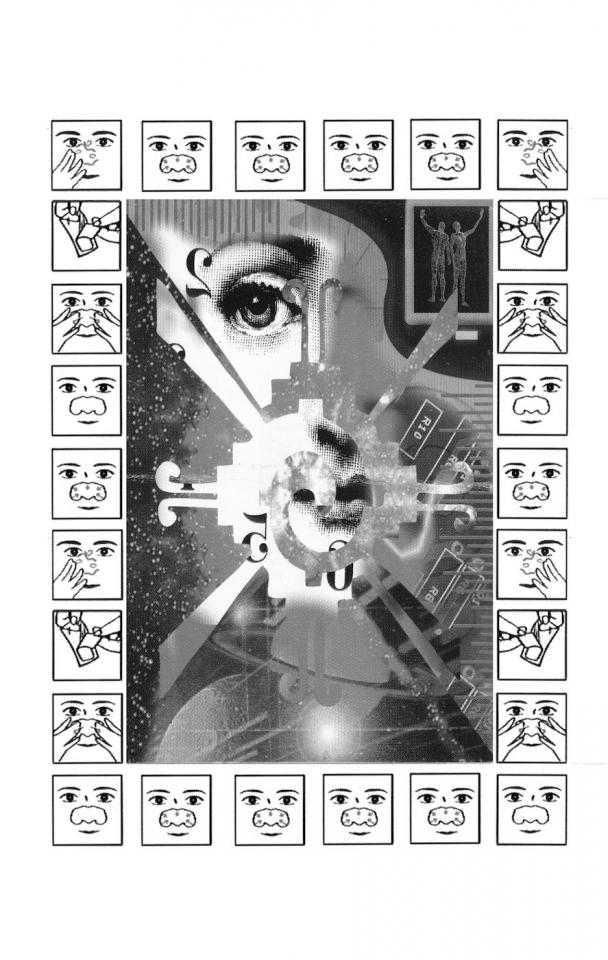 Shana Moulton, The Blazing Fireplace of Guardianship, 2012; Content, Winter 2012, p. 35; image courtesy of Content.
Moulton has long been interested in comparing the promises of New Age cultures and products alongside those of more normative, women-centered "beauty products" that circulate contemporary cultures. Like her film projects in which she mimics the urgent rhetoric of self-improvement publications, in The Blazing Fireplace of Guardianship Moulton re-arranges the cover of Prevention magazine so that its cover tells us, "Don't give in to astonishment!," giving a sense of what the cover might have in common with, say, the Sea Ranch Chapel in California's Sonoma County which invites the public to "use this nondenominational chapel in your own way for reflection and spiritual renewal." The Bioré deep cleansing pore strips, which appear in Moulton's videos both as a terrifying technology and as a broader mode of self-cleansing, make an appearance here, as do Elizabeth Arden's Ceramide Gold Ultimate Restorative Capsules. These images of "legitimate" beauty products begin to rhyme more and more with the cut-out and enhanced advertisements for things like the Galaxy of Light Fountain Collection ("featuring optic and LED lighting") and the Spartus Talking Horoscope Clock. Appeals to the spirit are everywhere—but the simulated texture of the newsprint makes us feel like they're subaltern, off-puttingly escapist, creepy. Even though Content is the title for the entire series, Moulton turns it into a double entendre here: within the book's covers is something resembling content, but nothing that will generate contentment.