review
Julika Rudelius: Rituals of Capitalism
August 28, 2012
Julika Rudelius is known for her videos about eccentric individuals concerned with appearances, sexuality and power. In her current exhibition at Leo Koenig gallery she addresses these issues further within the context of class mobility by presenting two instances in which individuals negotiate capitalist structures with the development of their own personhood. The exhibition extends across two galleries; the first showcases an earlier video, Rites of Passage (2008). The second contains the new work Rituals (2012), as well as several sculptures and photographs all created following Rudelius' 2010 residency in Guangzhou, China.
The two-channel video Rites of Passage portrays an exclusive environ where young male government interns from Ivy League schools meet with seasoned politicians for a session of mentoring on how to achieve success. Each mentor questions the mentee on his qualifications, personality and ultimate aspirations. The men impart words of wisdom with an authoritative air while stressing the importance of charisma and exceptionalism. As the conversations become repetitive, the focus turns to the interchange of physical gestures between man and boy. With flirtatious glances, awkward proximity and lingering touches, a semi-erotic dance takes form. A man questions a boy while standing behind him, while in another instance a mentor arranges a boy's tie in the midst of their conversation. The transitional pace from one scene to the next flows much like a dance in itself, yet it is permeated with nervous energy and an air of entitlement. It is clear throughout who leads this dance—as the mentor provides the mentee with confidence, he receives in return admiration and a sense of superiority.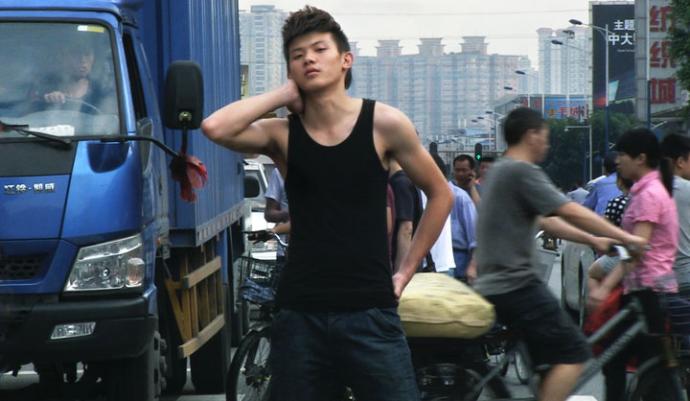 Julika Rudelius, still from Rituals, 2012; HD video installation, 10:30 min., 2 synchronized HD projectors; edition of 5 + 2 AP; image courtesy Leo Koenig Inc., New York and the artist.
The two videos on view share the perspective of an outsider looking into an unfamiliar culture: with Rites of Passage we observe an elite society that is likely foreign to many of us, and in Rituals we consider Rudelius' experience of her surroundings during her stay in Guangzhou. The latter two-channel video opens with a boy standing in the center of a bustling street and staring directly into the camera. He is dressed in jeans and a t-shirt adorned with the phrase "The New Start," and sports a highly stylized haircut. On the adjacent screen, meanwhile, boys transport carpets through a market on a bike cart. As one boy navigates the busy path, another—fashionably dressed and meticulously styled—reclines atop the merchandise in the back, staring indifferently at the camera. The video cycles through several additional scenes: a woman singing emotively in a sparse daytime club, a man performing magic tricks in a dark industrial environment, boys wrestling playfully in the merchant's market. All these individuals consistently convey confidence and personal style—a sign that their ambitions are likely greater than their day-to-day reality.
Rudelius' observations in China become yet clearer in the gallery's back room, where she juxtaposes photographs of young Chinese men with stylized hairdos with pieces of fur that she found in local textile shops. The conflation suggests that the carefully crafted style that Rudelius emphasizes in Rituals is a symbol of the emerging middle class in China, much like fur is an icon of accomplishment among members of the upper class. As aspirations grow in Chinese society—and with it the desire for individuality—visual signs of capitalism become increasingly prevalent.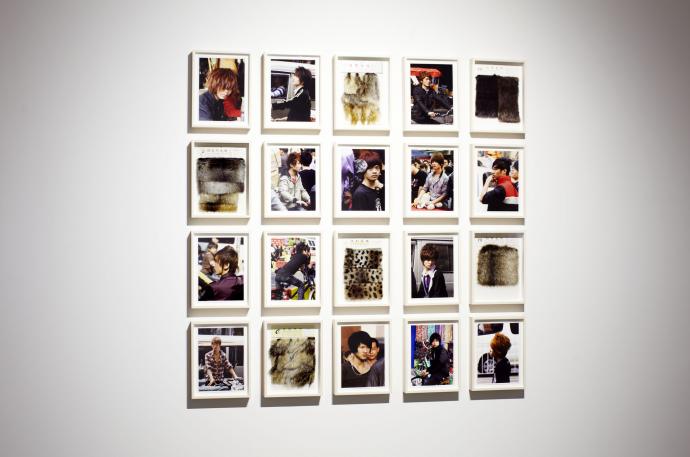 Julika Rudelius, Untitled (Fur Hair), 2012; Chromira chromogenic prints (in 15 parts) and faux fur samples (in 5 parts); 12 in. x 9.25 in. x 1.75 in. each; edition of 6 + 2 AP; image courtesy of Leo Koenig Inc., New York and the artist.
Viewing the exhibition as a whole elicits similarities in the ways in which individualism bumps up against capitalist ambitions and inherent power structures. In Rites of Passage, the boys donned the traditional outfit of success—a suit, ironed dress shirt and colorful tie—with which they presented themselves ahead of their current intern position. Similarly, the young Chinese men in Rituals adopt a styled look that sets them apart from their current working class environment. In both instances, however, we witness reminders of their current status. In the closed corridors of government offices we watch the mentors undermine the interns' ambitions as they assert their superiority through improper gestures. In the streets of Guangzhou we view the apparent insignificance the depicted individuals carry in their respective surroundings.
Whether they are boys being groomed for politics or young carpet merchants in a local market, Rudelius' characters embody identities manufactured by the expectations and values of a capitalist society. While the goals of these emerging professionals differ, their methods—charisma, self-assurance, distinctiveness—are shared as they follow a path in hopes to stand apart, ahead and beyond their current status.