review
It is what it is. Or is it?
Contemporary Arts Museum Houston
July 6, 2012
The CAMH's latest exhibition, the first organized by new curator Dean Daderko, is a group show exploring the shifting status, use and conceptualization of the readymade since Duchamp. The show's title posits the dilemma of the readymade: is it what it is (object), or is it something else (art)? More meaningfully, perhaps, the title is itself an illustration of a readymade-esque production. It recombines some of the simplest, most familiar and useful words in our language into something that upon first encounter might seem either a cryptic novelty that snaps us out of semantic complacency or just an intentionally obtuse and ultimately vacuous phrase. Again, a dilemma.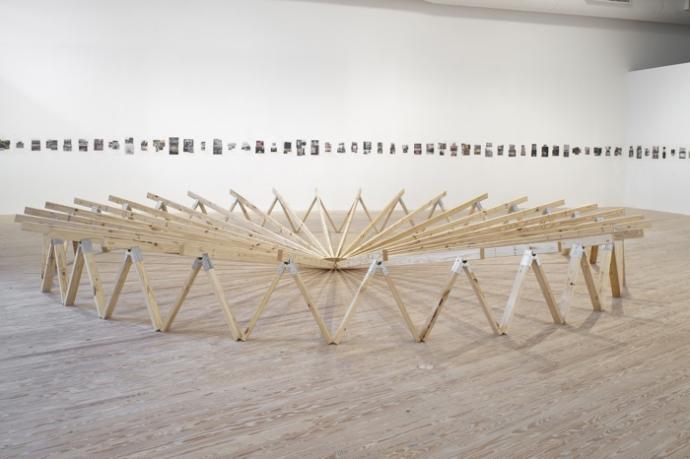 Bill Bollinger, Evergreen Joe Hemmis, installation view at the Contemporary Arts Museum Houston, 1970/2011; lumber and sawhorse brackets; dimensions variable; photographed by Paul Hester; image courtesy the CAMH.

While this dilemma is deeply resonant within contemporary art, it is also occasionally clichéd. Duchamp defined the readymade as "a form of denying the possibility of defining art," a notion perhaps more shocking in the early twentieth century than it is now. I think few museum regulars would enter into the space and seriously take up the "object or art" debate any more than they might take up a sincere debate of definition and category upon seeing a box of tomatoes grouped under the "vegetables" section at the grocery.
Which is not to say that the art is not interesting, nor the tomato not delicious. It's just that pedantry doesn't invigorate either experience. But there is more to Daderko's exhibition than works challenging the definition of "art," and as I spent time wandering the gallery's large and undivided space, I found myself meditating on what made each work a readymade instead. A simple game to play, but one that turned out engaging and illuminating.
The first works I encountered were Daphne Fitzpatrick's free-standing assemblage sculptures. These most fit my expectations of the readymade: absurd objects formed from commonplace items. Yet some of the components are more "made" than "ready"—a slice of cheese created out of wax, and hand-drawn currency, for example—indicating that the artist had more in mind than an immediate "this" plus "that." The humorous nature of Fitzpatrick's work along with this notion of there being something more than assembling of items, lingered with me for the rest of my visit as I considered various ways of defining the readymade. Fitzpatrick's work raised questions about the importance of manual or intellectual labor to the readymade, or a requisite lack of it.
Luis Jacob's Album VIII, a series of sixty-seven photomontages spanning two of the room's walls marks a different approach. In contrast to Fitzpatrick, labor or time seems of little importance in Jacob's work, despite his sifting and organizing of what must have been a massive collection of found photographs and clippings. In this work, Jacob distills repeating visual themes across unrelated subject matter into a call-and-response dialogue, revealing a harmony between disparate visual experiences whose basic material—photographs, prints, advertisements—we all have daily access to but of which we rarely notice. With this approach, Jacob's role as the artist is not, like others on display, one of hindering one's normal perception of an object, of being a provocation or an obstruction. Rather, Jacob guides the viewer through the familiar and into an even greater intimacy.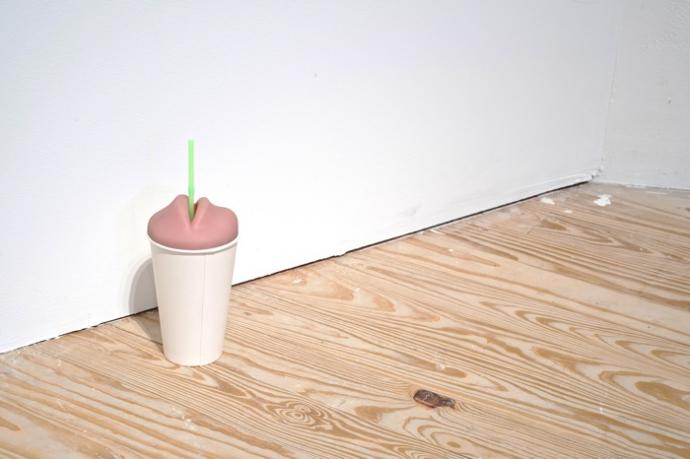 Claire Fontaine, Untitled (Prière de Toucher), 2011; ready-made masturbator, disposable coffee cup, and straw; dimensions variable; photographed by Paul Hester; image courtesy the artist and Metro Pictures, New York.

Many of the works on display require a clue to decode and it is essential for the viewer to pick up and carry with them a printed list of works as they go. In contrast to the looming flagpoles of Fayçal Baghriche's Envelopments—where the artist wrapped flags from multiple nations around poles so that only their red sections appear—Patrick Killoran's An Inconspicuous Addition bears a similar hidden message executed in a less monumental way. Here, the materials list informs that Killoran's red cooler is all that indicates that the ice-filled cooler on the museum floor also contains a rough diamond, visually indistinct from the ice until it melts away. Visual puns manifest in many of the other works on display, filling out a spectrum of ironic gestures (Latifa Etchakhck's Globus, a world map crumpled into a globe-shaped ball of trash); slapstick (Claire Fontaine's Untitled Prière de Toucher, assembled from a "ready-made masturbator," disposable coffee cup, and straw); and referential cleverness (Jamie Isenstein's Smoking Pipe which, unlike Magritte's painting, is in fact a pipe). It is the museum equivalent of thumbing through the Sunday comics, an array of visual stimuli at once enjoyable, memorable and disposable.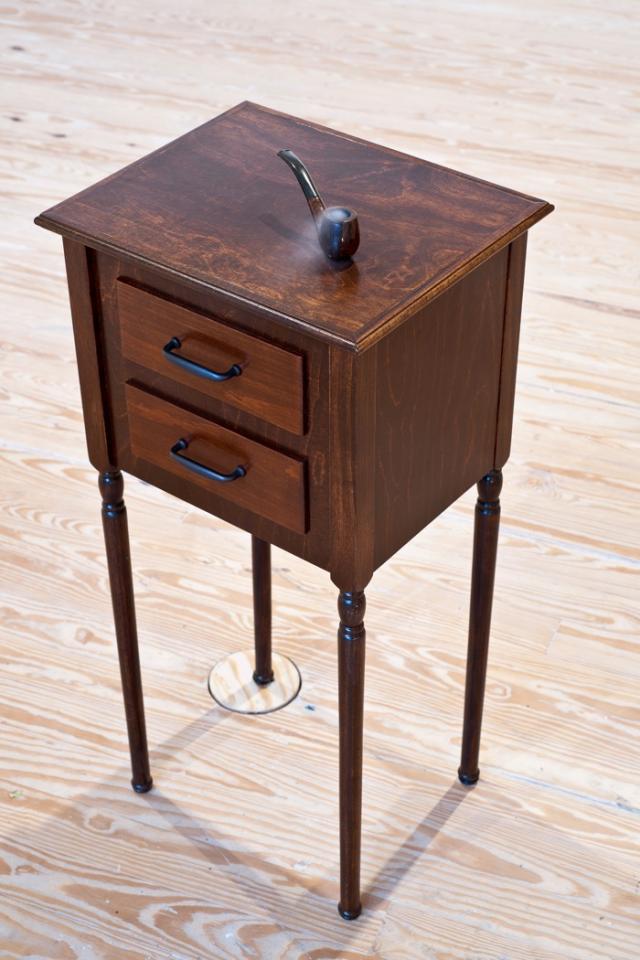 Jamie Isenstein, Smoking Pipe, 2006; pipe, wooden table, humidifier, sound insulation foam, hardware, glue and enamel; photographed by Paul Hester; image courtesy the artist and Andrew Kreps Gallery, New York.
Two works break beyond the realm of witticisms and find themselves casting the readymade as something more pragmatic than thought experimentation. Claire Fontaine's video installation Instructions of the sharing of private property is a provocation not to the art world but to society itself, instructing viewers on how to pick locks. By recontextualizing information already publicly available and accessible, the Paris-based collective questions the play-morality of an exhibition that might hope to be 'scandalous' or ask 'tough' questions about art and what responsibility the museum is willing to assume for actual provocation.
The other, much more richly instructive work concerning the idea of the readymade is easy to overlook; I had to see it listed on the exhibition guide and then go and find the museum attendant to ask about it. Taking the form of a performance enacted between you and a museum employee, Pratchaya Phinthong's Demonstrations is the recited story of a Thai politician who bribed poor citizens to fill out the audience in his protests against the sitting government, but paid them in counterfeit currency. Phinthong recovered one of these fake bills, buying it from one of the protestors for many times its original supposed value, and the museum attendant shows the actual bill to visitors while relating the story. The bill is now an object that, like any good readymade, has been transubstantiated from cheap (or, here, actually worthless) to valuable, though the substance of the object itself has not changed in the slightest. Both an example and a record of this inexplicable process, Phinthong's work doesn't show off the readymade's cleverness, but the damage that such deceit can cause to a system built on meaning.
It is what it is. Or is it? is both more and less than the title gives itself credit for. Daderko's ambitious curatorial style finds its value not in defining for the visitor what is at stake but in reaching and grasping far enough afield that one exercises their own mental capacity for definition. And even once that has become an elusive endeavor, there's enough humor and sweetness in the room to play against more worrisome pretensions.