review
Michael Bauer: H.S.O.P. – 1973
June 1, 2012
German artist Michael Bauer's New York debut at Lisa Cooley Gallery is excellent and unlikely, following a season where the highlights seemed mostly concerned with multi-disciplinary approaches to performance and installation. Aware of the present context and well-versed in art history, Bauer's new paintings hoist unexpected pleasure upon unsuspecting viewers.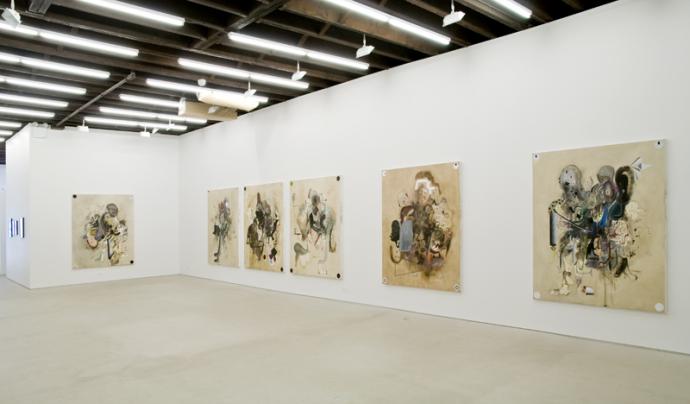 Installation view of Michael Bauer: H.S.O.P - 1973 at Lisa Cooley, New York, 2012; image courtesy the artist and Lisa Cooley, New York.
 
Four pastel and charcoal drawings grouped closely together on a wall near the entrance precede the main exhibition of twelve large oils on canvas. These surreal and funny drawings are a fine opener, serving as introductory exercises to the more substantial works that follow. Bauer titled each drawing H.S.O.P. – 1973 – followed by a German numeral: Eins, Zwei, Drei, and Vier. Like a Dada advertisement, the first drawing features text announcing the exhibition, but with no apparent design hierarchy: Lisa Cooley Zeigt (or "Lisa Cooley Shows"), the artist's name, his birth year (1973) and the show's opening date (11 Mai 2012). An abstracted head appears with various body parts attached, the acronym H.S.O.P. held inside its loosely depicted brain (according to the press release this acronym is an "arbitrary reference to the Hudson River School of Painting"). Placed so, the reference floats like an idea that seems distinct and direct, yet vulnerable to the interruption of influence.
Arbitrary references abound in the paintings as well, with Bauer's wide gestural range emerging from a studied and intuitive froth of art-historical consciousness. Each painting features a centrally arranged cluster of varied colors, marks and shapes. Calligraphic lines make lyrical flourishes here and there, which are playfully decorative. These "decorations" hover around Cubist geometries as well as areas more redolent of painterly Abstract Expressionism, then further complicated with a layer or two of hard-lined, zigzag impasto. Meanwhile a cartoonish penis dangles, a fist tightens or a foot pokes out of the melee. Facial profiles appear in silhouette, hat tips to Philip Guston's smoking Cyclops. Occasionally airy passages of white, lavender or lime green brushwork alleviate the brooding, busy jumble, seen to best effect in Daytona Eagle – H.S.O.P. – 42 (2012). Across all works, thick brown paint concentrates near the middle and dissolves into the lightness of empty canvas out toward the perimeter. Indeed this overwhelming brownness, under-painted en brunaille, grounds the show in a European tradition and creates a formidable arena wherein to address Leonardo, Braque, Picasso, Manet's speedy brushwork, Picabia's surreal abstractions, Calder's gouaches and a dozen or so other quick nods to previous masters.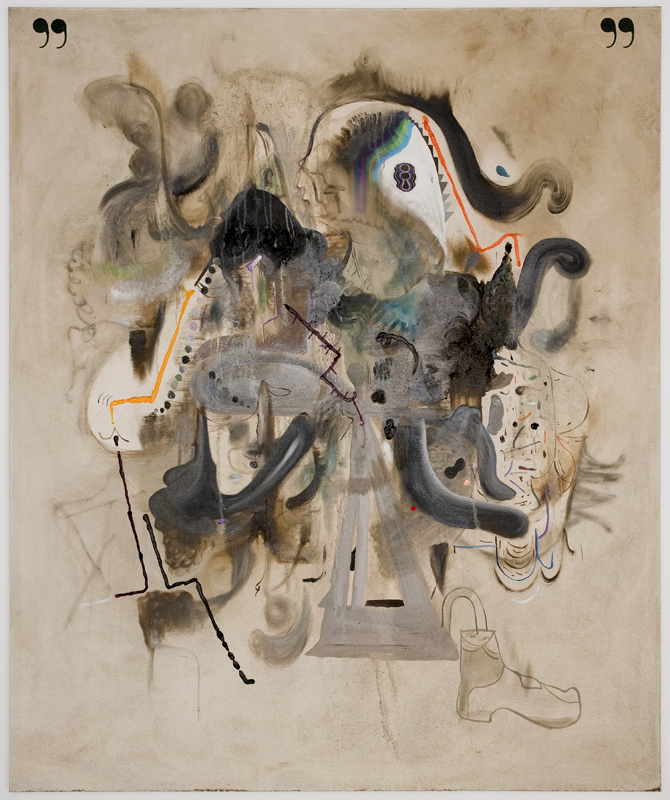 Michael Bauer, Thon - H.S.O.P. - 42, 2012; oil on canvas; 182.9 x 152.4 cm; image courtesy the artist and Lisa Cooley, New York.
Bauer has bright and flatly colored dots in the four corners of each canvas. As a framing device, they reign in much of this ambitious activity. On one painting however, Thon – H.S.O.P. – 42 (2012), Bauer uses quotation marks instead of dots. They suggest that the painting is a textual document aware of allusions to the works of past artists.
A comprehensive manipulation of historical influence is the manner of his style, yet Bauer avoids a posture of mastery by undercutting any claim to triumphal European rationalism. For instance, each work is titled with a mythic sounding proper name, H.S.O.P. and a European shoe size. Names like Spandex Thor grant the work a vague identity. H.S.O.P. imagines the artist's new turf, New York, while the shoe size refers to a cartoonish foot reappearing near the bottom of every painting. Although the recurring boot shows an attempt at humorous uniformity, it is also possible to view it as a reference to geographical Italy, host of the Renaissance, emerging from the shadowy abstraction of a continental mob. Bauer has it kick out limply, giving nothing in respect to enlightenment, but much to offer the cause of pictorial fascination.