review
Cy Twombly: Photographs III 1951-2010
April 13, 2012
Most photographs lack surface. They are smooth—save for the tooth of the paper they are printed upon—they encourage viewers to look past the paper and apprehend what appears to be a three-dimensional scene. But what's notable about Cy Twombly's photographs, as collected in Cy Twombly: Photographs III, 1951-2010, is that they call attention to that so-often-ignored surface. Twombly's photographs impede more than invite the viewer's gaze into the illusionistic window that most photographic depictions offer.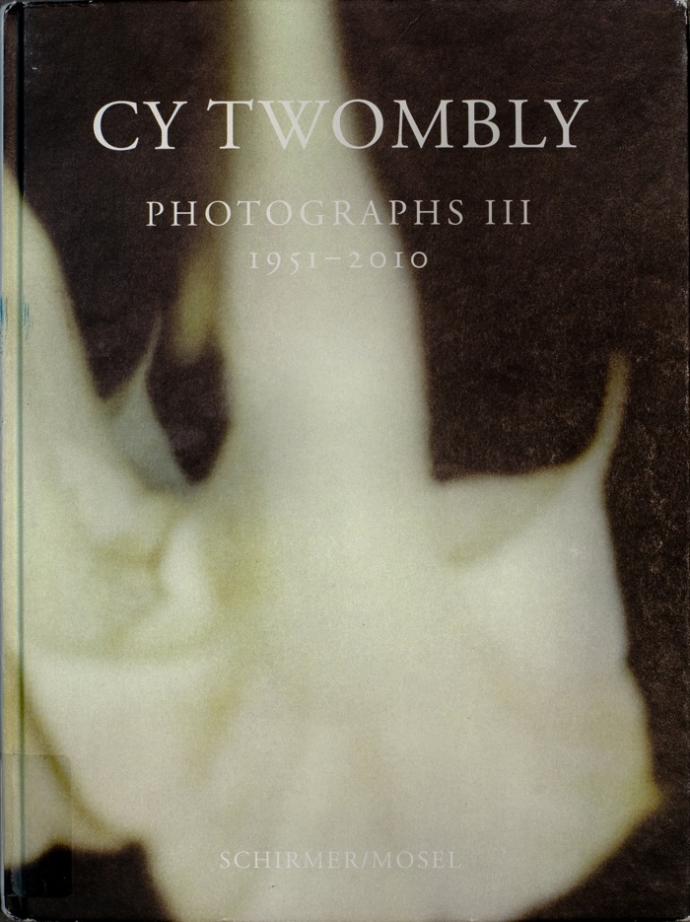 Cy Twombly: Photographs III, 1951-2010; cover image; Schirmer/Mosel 2011.
Twombly made most of his photographs with a Polaroid camera then enlarged the images with a color copier, resulting in what he called "dry prints." The Polaroids, already low fidelity, when strained and distorted further through a photocopier, create a hazy glow and a stand-in for physical texture. Twombly's idiosyncratic photographing process causes the picture to break up in such a manner as to suggest a surface. Blurred and radiant, the images seem as if viewed through a screen. This interruption points not to the structure of Twombly's observed circumstance, but more to the circumstance of the mechanical act of its rendering. This is particularly evident in the Yard Sale images (2008), which depict glistening drinking glasses assembled for a yard sale in Kentucky. Bright specks created by the low resolution Polaroid and color-copier merges with the highlights cast off from the glasses themselves to repel any sense of depth. Instead, the glasses' highlights seem to lie flat atop the image's surface.
The greatest pleasure, however, is not the technical grammar of Twombly's depictions. Rather, when Twombly's groupings of disparate subjects change with a hidden abruptness, the result is surprising and pleasing. Twombly's yard sale drinking glasses, for example, seamlessly give way to a procession of blown-out and yellow-hued floral abstractions taken in Gaeta. Or, when Sunset, Gaeta, 2008 transitions into Painting Detail (Roses), Gaeta, 2009, the first image's sunset hues give way to loose gestural yellows subsumed in dripping reds and purple.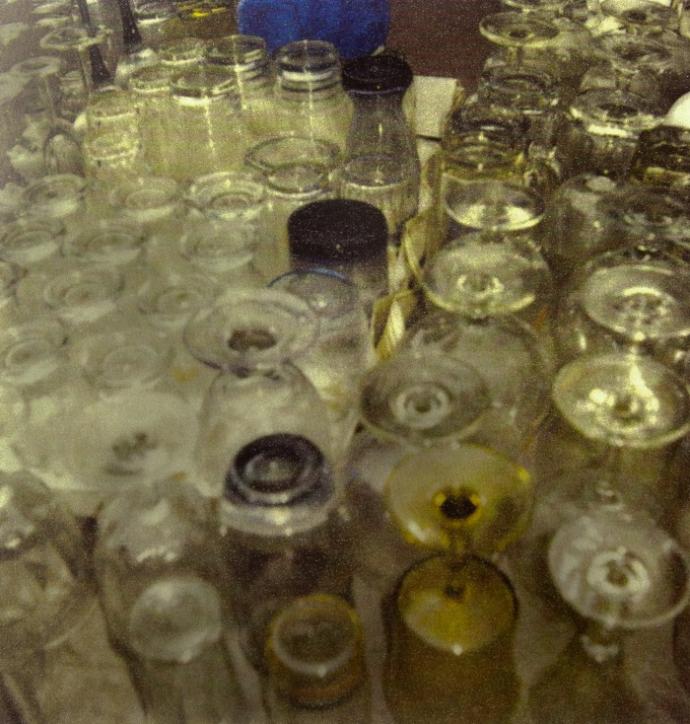 Yard Sale, Lexington 2008; Cy Twombly: Photographs III, 1951-2010, p. 34; Schirmer/Mosel 2011
The book begins with a picture of Twombly as a youth painting under an umbrella and winds its way five or so pictures at a time through Tetuan, Agrigent, Rome, loops between Gaeta and Lexington, with assorted stops in-between. The image sequences smear one into another with a stuttering, stop-motion alchemy. An image of a bifurcated tree stands between Forest—a photograph taken in Lexington, Kentucky in 2000, which depicts the dense vertical lines of a tree grove in winter—and the quietly sublime series of mountainscapes entitled Landscape, taken in Viletta, Barrea, 2008. The movement between images throughout the book offers a languid film where by we catch glimpses of Twombly's poetic languages. These dissolves between leitmotifs bridge great temporal and physical distances to provide linkages among the varied aspects of his artistic practice,;which included drawing, painting, sculpture, and photography. Photographs III, 1951-2010, a book fifty-nine years in the making, can thus be seen as a fractional map of Cy Twombly's career and working languages, which function like captivating Cliff Notes, to a studio practice and a life.